Am 06.06.09 war es so weit, die Miracle of Life wurde vor Pompano versenkt. Bilder und ein kurzes Video vom Versenken findet Ihr am Schluß des Artikels
Finally the Miracle of Life was sunk off Pompano in Florida. Pics and a short video of the sinking can be found at the end of the article
Lat 26 19.162 Lon 80 03.198 Lat (Bow) Lat 26 19.180 Lon 80 03.195 (Stern) A 170-foot off-shore supply Vessel was sunk in 142 feet of water on June, 06 2009. It was sunk as an artificial reef, most of its superstructure has been dismantled or cut away to make safe for divers. The top of wheelhouse is about 100 feet and next level where the statue of angel 14 feet tall weighting 3500 Lbs made of bronze is about 110 feet deep. Deck of the vessel 120 feet and wreck penetration only for experienced and trained divers. This dive is deep and all trained recreation divers should not exceed 130 feet and the suggest mix for this site is 28% Nitrox.
The idea of placing a shipwreck off of Deerfield Beach started nine years ago. As I see it, as a dive store owner, we can do a better job by creating more artificial reefs to benefit the environment and also our local economy. I tried the first time in conjunction with the Deerfield Beach Chamber of Commerce and organizer of the annual Beach Blowout, Jim Mathie, and assistance of Ray McAllister. A couple of times we got very close to acquire a ship to make artificial reefs but weve had problems with the permits and coordinating the local government. This time, we have every thing in place. As you see in the picture below, we are off Deerfield Beach, [picture taken by local media newspaper, the Observer.
Photo: Arilton Pavan (Dixie Divers)
Ray McAllister and Jim Mathie
"The Team" – Arilton Pavan (Dixie Divers)
Chad Grecsek (Deerfield Beach) Ken Banks
(Broward County) Craig Ash (Cepemar)
Photo:Arilton Pavan (Dixie Divers)
Chad Grecsek (City Deerfield Beach)
Craig Ash (Cepemar)
and US Customs Agents (Miami).
Photo:Environmental Cleaning
Contractor working on the vessel.
This time I tried a different approach by working with the city instead of directing towards the county itself. After getting all the
support from the city, we started coordinating with Ken Banks, the Coordinator from Broward County Artificial Reefs, and Carmen of Palm Beach County. The most important approach was getting the City of Deerfield Beach behind and supporting our idea, this way is a quicker response to the needs of our government representation. I, Pavan, believe the idea of this first shipwreck is just the start of a massive endeavor of achievements as persuasion to get more large ships to this area by increasing the number of artificial reefs off Deerfield. This attracts more divers and fisherman alike. This will help the local hotels, restaurants and small businesses in general by bringing more people to this area to enjoy the more attractions. As the city of Deerfield Beach did a study, where it shows it will stimulate the economy by increasing the figures of money spent in the Deerfield area with this study supporting us. I really believe, with support from the community, city volunteers and charitable donations we can turn some old, rusted ship bounded with the use of drug smugglers and bearing illegal drugs into a new habitat for marine life and help the local economy at the same time.
History of Project ShipwreckMiss Lourdies ( Miracle of Life)
June 29th, 2008- U.S Customs and Border Patrol seized a vessel with 154 kilos of cocaine aboard the 165-foot freighter named Miss Lourdies. The vessel was confiscated by U.S customs.
US Customs and Border Patrol agents doing a random inspection Thursday (26 June) found more than 150 kilos of cocaine inside a freighter on the Miami River. Agents who randomly inspect ships docked at the Port of Miami and on the Miami River noticed an irregular noise when they tapped on the hull of the Haitian freighter near the 2200 block of Northwest South River Drive. When they broke through the wall, the agents found a steel compartment that was bolted shut and filled with 154 kilos of cocaine.
"It's a significant find. We used to have a lot of activity like this on the river," Mann said. "It just goes to show you that we're still out here looking, and today was a very significant day in that we found a large quantity of cocaine and we've taken it off the streets."
October 6th, 2008- Ken Banks contacted Pavan, owner of Dixie Divers, to let him know there is a possible vessel available in Miami.
November 16th, 2008- Dan Fasano committed to help pay for the cost of cleaning the new shipwreck.
December 2nd, 2008- Deerfield Beach city commissioners voted accepting the ship to make it an artificial reef of Deerfield Beach with no cost to the city.
March 13th, 2009- Contract signed between stakeholders, Dixie Divers A. Pavan (financial provider), Chad Grecsek City of Deerfield Beach (government agency) and Bruce Sugar Bunnell Foundation, Inc. Environment Cleaning Contractor.
March 20th, 2009- Vessel was transferred from U.S Customs to the City of Deerfield Beach and later to the Bunnell Foundation, Inc. Environmental Cleaning Contractor on port on Miami River.
June 6th,2009 sinking of the vessel
Hier einkurzes Video vom Versenken
Here you can see the sinking of the Miracle of Life
.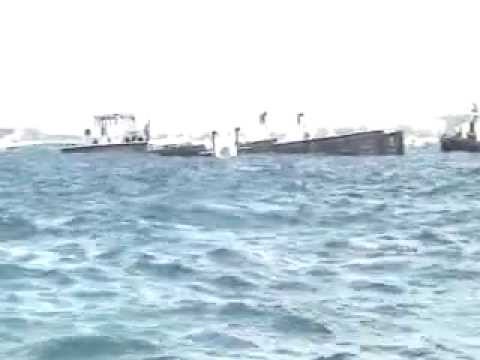 Hier ein kurzes Video vom Wrack:
here a short video of the wreck
.
5 Comments to Neues Wrack Miracle of Life (new wreck)
Leave a Reply
Mein Tauchbuch
Besucher
Zur Zeit Online: 1
Besucher heute: 56
Top100 Tec-Diving
Links
Foren

Freunde

Intern

Links

Organisationen

Shops

Sonstige

unique visitors from 01.03.2009 to ............ ....... 31.07.2013: 163347